Essential Oil Diffusers Help Create a Tranquil, Relaxing Space.
Diffuser mist alone will make a huge difference to the space around you. An oasis of calm, a sense of peace. Baliba diffusers have been selected to also add to your decor – selected for their style as much as their look. Thousands of homes enjoy our diffusers daily – and so will you! Many are from natural substances – adding even more, helping you to Create Your Beautiful Space.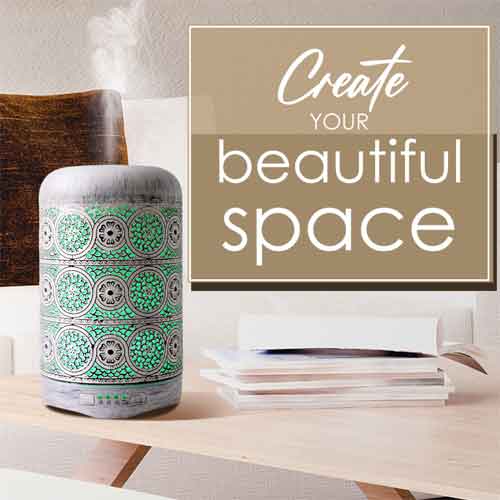 Discover the difference with your own relaxation ritual. Stunning diffuser & oils with our Beginner Rituals Set.
More than an attractive diffuser… a calming lift for your space. Mist with oils for a couple of hours, or just enjoy diffuser mist. It's very relaxing. Try it… You'll see what a difference it makes!!
Getting The Best From Your Diffuser
Diffusers do not need much water at all to diffuse for hours. In fact, they mist better with a less-filled water chamber.
If your diffuser is not misting well, check if you have over-filled it. The water maximum should be below the fill line. Try removing a little bit of water and try again. This solves the problem 99.9% of the time. People are surprised at how long a small amount of water is able to mist.
Every diffuser has an air vent to the circuitry. Take care when filling or emptying any residual water from the water chamber, to avoid the vent (it is usually at the top of the water chamber). Allowing water to ingress may short circuit the electronics – usually resulting in one element of functionality failing.
Always place your diffuser on a solid firm surface – never on a cushion or a surface that it could sink into. In this, the air vent will remain clear
Use the mist intervals during the day to allow a longer-lasting mist, and also to ensure you don't over-scent. Remember that essential oils are in your system within 30 seconds of the mist starting – and all through your body within an hour. You don't need continuous mist to get the impact and the scent.
The humidity of your environment will make a difference in how much mist is produced. If your diffuser is not misting very much, and your room is quite cold, add a tiny bit of tepid water to the diffuser water, and the mist will increase (or warm the room a little)!
To auto-deactivate lights as well as the mist, place your diffuser on continuous mist and both lights and mist will shut off when the water is low. This is useful at night – you can decide whether to have the light stay on as a night light or self deactivate if not required.
Domestic diffusers are not made to work 24/7. Make sure your diffuser powers off regularly to extend its working life.