🚚 Delivery in 2 – 4 days in NZ
Select Your Stylish Diffuser
Select Two Aroma Oils
Diffusers presently available for this gift set (shown below):
Moroccan Romance 260ml (bronze brushed metal case, 260ml capacity)
Aztec Design 260ml (white brushed metal case, 260ml capacity)
Aroma Lamp Glass Diffuser (glass diffuser, 100ml capacity)
Nature Sounds Diffuser (300ml capacity- usually $97)
Your Gift Set will be sent to you (or directly to your gift recipient) tissue wrapped, ready to gift as a beautiful surprise!
All diffusers have pretty coloured LED lights that can be set on rotate or on a chosen light.
All diffusers have variable mist settings & auto stop on low water.
Nature Sounds Diffuser has white noise, pink noise, lullabies with volume control (or no sound).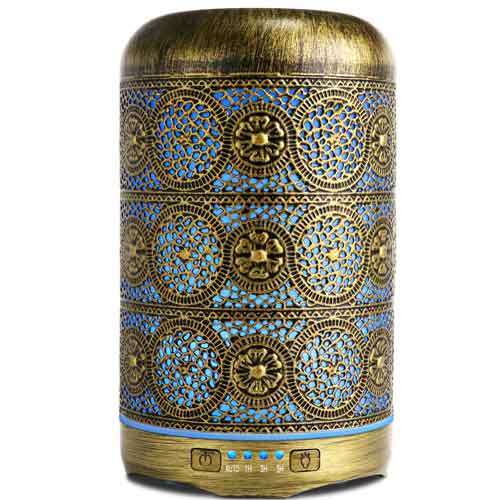 ⭐⭐⭐⭐⭐
I am absolutely pleased with my purchase! (Moroccan Romance Diffuser).
Kiran P.
⭐⭐⭐⭐⭐
Amazing service, my order arrived in less than 24 hours. Love my Seacrest diffuser. Will definitely shop again.
Tracey B.
⭐⭐⭐⭐⭐
I love my diffuser accompanied with the lavender oil which helps me feel so calm just before sleep. Highly recommend these diffusers and the customer service is the best out!
Emma N.
Frequently Asked Questions
Do you have the stock ready to ship?
Yes, we do have the stock! We ship overnight in the North Island NZ, 2 day delivery South Island NZ and 3 day delivery rural NZ.
Delivery to Australia takes 3 – 5 days.
What happens if my diffuser fails?
Your diffuser comes with a 12 month warranty. We ask that you send us a photo or short video in the first instance. If we need to replace it, we may occasionally need to substitute with a similar item if the item you purchased is not presently in stock.
Are your essential oils & blends pure?
Yes! Our essential oils are 100% pure. We create and bottle the blends locally. On occasion, we create custom blends for customers, and we are always adding to the blend range.
What is the difference between aroma oils and essential oils?
Aroma oils are from natural bases and also contain synthetic notes to build a specific fragrance. Essential oils are 100% pure. Both have therapeutic properties.