Creating Relaxing, Healthy Spaces Since 2010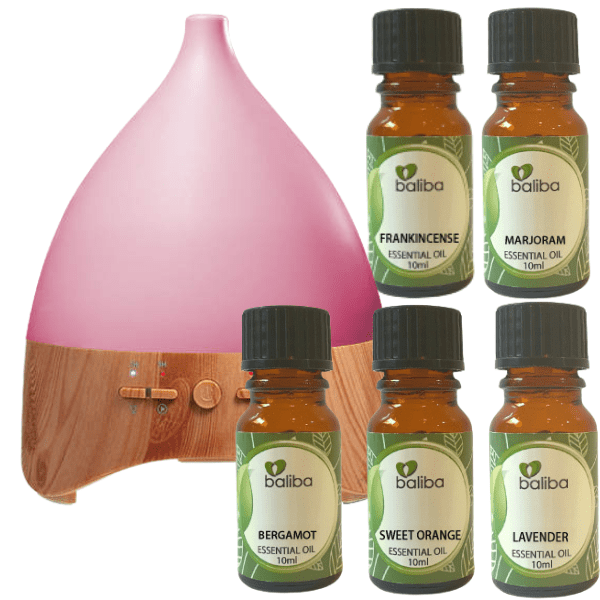 Nature Sounds Core Essentials Set
White Noise & Nature Sounds Diffuser with Lavender, Sweet Orange, Bergamot, Sweet Marjoram & Frankincense Pure Essential Oils.
Set Value: $224.00
In stock
or 6 weekly interest-free payments from $21.16 with

what's this?
✔️ In Stock. Ready To Send.
✔️ Free Courier in NZ $75+
✔️ Free Courier in AU $150+
✔️ 12 Month Warranty on Diffusers.
Need Help? Call on 0800 779 776. We are located in Auckland.



Love the range of essential oils and the Magnesium Butter is divine, it has really helped my aching knees and hips

Maria Ureta Soto
2023-09-18
Thank you for your kind messages. Yes, the parcel has arrived perfectly. I love the arome diffuser!!! And the oil is absolutely beautiful, too. I will be very please purchasing more products from you.

BEACH BREEZE - EDT - WOW! WOW! WOW! What an absolutely AMAZING fragrance your Beach Breeze is! It is SO GOOD!! I'm so pleased you turned the Diffuser Oil into a perfume. IT IS MY FAVOURITE SCENT. It reminds me SO MUCH of Penzine Beach in Wales! I just love the smell of walking on a beach in Winter, the rugged coastline and wind in your hair - well I have to tie mine back otherwise I'd look like Cousin It shuffling along. Not ideal, especially if you are walking on the path above the cliffs!! I also have the Beach Breeze Oil in my beautiful Moroccan Diffuser every night before I go to bed, I set it for an hour. It's so relaxing & I've been sleeping really well lately. So I just wanted to say a BIG THANK YOU!!! Now I can have my favourite scent with me ALL the time!! I was in Auckland recently & went to try a few Tom Ford perfume samples. The actual perfumes are Ridiculously Expensive!! The Mark Up must be astronomical! BUT, I didn't like them at all! (Even ignoring the price tag, they are just NOT for me-don't know what it is but even the samples I have here at home, I'm not using as they give me a headache & make me feel quite ill. AND, I did manage to get a whiff of the TOM FORD MINERALE - The perfume Beach Breeze is based on - IT'S ACTUALLY A DISCONTINUED SCENT - And WOW! It was NO WHERE AS GOOD AS YOUR ONE!! Honestly, if you close your eyes & think of a salty coastal breeze blowing in over a rugged coastline, and then compare the TF fragrance against Beach Breeze - Your Beach Breeze is the winner hands down. It TRULY CAPTURES that image in a bottle! Even, the lady in the store agreed that your one was a lot nicer!! I just had it in my handbag, and she asked if she could smell it. She loved it!! But said, don't tell her boss! So anyway I just wanted to let you know that.

Great customer service, very fast communication and amazing product! Julie was amazing to deal with and so helpful!

Rob and Ant Ellis
2023-09-11
Great communication and love the diffuser!

As a new Baliba customer, I have to say I'm really impressed. I have had several follow up emails since ordering, welcoming me and giving the opportunity to learn more about the power of essential oils and aromas on our wellbeing. The aroma oils I ordered with my diffuser are amazing and powerful and truly change the feeling in the room and also in my tired sense of smell. The diffuser itself is gorgeous, I'm planning to get another for my daughter for Xmas. I have bought diffusers and oils before but Baliba somehow makes it a more special experience by offering a better understanding of the background and purpose of using essential oils this way. Highly recommend!

Raewyn Mcdowell
2023-08-31
New to purchasing from Baliba. Customer service is above and beyond with Julie adding helpful information on my purchases. Thrilled with my choices and the prices - better than I expected with a huge range to choose from. Will definitely be a returning customer and thoroughly recommend visiting the site. Thank you Julie

Incredible customer service!! Amazing products (the fragrance oils are amazing) very fast shipping. Highly recommend!

So Happy with my purchase beautiful fragrance
Nature Sounds Diffuser With Core Essential Oils Set
Nature Sounds Diffuser is a quality essential oil diffuser with the added bonus of nature sounds, white & pink noise, and lullabies!
300ml water capacity
200mm tall, 150mm wide
Ten diffuser sounds including birdsong, ocean, rainfall, white noise, pink noise & two lullabies.
Four mist settings
Seven coloured lights – set to rotate or select your colour (or no lights)
Volume Control for sounds (or no sound)
Auto-off on low water
Ultrasonic technology
White noise and pink noise have proven effective in aiding concentration and focus during the day or relaxing your mind when it's time to wind down.
'Core Essentials' are the essential oils most commonly purchased and with the greatest variety of applications, together in a convenient 5-Oil Set:
French Lavender (calming, healing, restorative)
Sweet Orange (inspiring, creative, enabling easy communication)
Bergamot (uplifting, promotes the flow of energy & feeling of spontaneity)
Marjoram (the big hug, enabling a feeling of nurturing & calm)
Frankincense (meditative and reflective)
All five oils blend well together, we'll help you understand how to blend them to create your perfect space.
Essential oils are very concentrated plant essences. They should not be consumed and are best inhaled in mist from a diffuser for 1 – 30 hours at a time. Essential oils will start to take effect within minutes of being inhaled and will be fully manifested within 60 minutes. 4 to 6 drops in total is all that is required.
If applying to skin, please dilute with a carrier oil, and do not use around young children & babies in closed spaces. Keep out of the reach of children.
Nature Sounds & White Noise should be used during the day, with mist only at night. White noise & lullabies are ideal for babies at night (with or without mist), but do not use essential oils in nursery rooms or confined spaces around children under two years.
Reducing Carbon Footprint
We recycle wherever possible, we pulp and recycle incoming cartons into wildflower seed paper, which we gift to our customers, along with a compostable Peat Pot - so you can plant our packaging and enjoy pretty wildflowers. We encourage you to do that outdoors to help bees find more flowers and deliver a positive, productive use of packaging waste. We call this the Baliba #FlowerPotProject
When we ship via DHL, we opted to make a contribution to carbon credits with each parcel sent in the Go Green programme, because we believe every effort counts.
100% Non-Toxic Parts
All our diffusers use 100% non toxic parts and many are made of natural substances (metal, glass, ceramic). Those parts that are plastic are non toxic ABS plastic, that is easily recycled.  ABS is used in toys, including LEGO blocks. Diffuser water chambers are made of polypropylene.
Shipping, Product Guarantee, Secure Payment.
Secure payment on this site can be made by Visa, Mastercard, PayPal, POLi secure bank to bank, or via LayBuy or ZIP Pay. We do not retain card details on this site - all transactions are completed off the site through secure payment portals. we do not ever see or receive your card details.
All diffusers come with a 12-month warranty from the date of purchase. If you have a concern about the operation of your diffuser, just contact us and we'll investigate, repair or replace. We give you plenty of advice on how to make the most of your diffuser, and we've sold hundreds and hundreds of them.
Delivery: We use NZ Post's Courier Post signature only couriers. These are (week days) overnight North Island and 1 - 2 days South Island. Rural Deliveries, while often meeting the non rural standards, can take up to 3 days. Courier to Australia take 3 - 5 days by standard courier, or can be door to door with DHL Express Delivery. Orders placed before midday are usually dispatched on the day of the order (Monday - Friday). People often comment on the prompt delivery.
If you have questions - any question at all is welcome. We are easy to contact (based in Auckland). We don't allow pickups, simply because we don't have a provision for this at our premises.
Ultrasonic Diffuser Technology
Ultrasonic essential oil diffusers use a specially designed technology designed to split water into microparticles – combining the oil and distributing it into the surrounding area on a cool mist. Because the water does not at any time become warm, the integrity of the essential oil or aroma oil is held, and the diffuser is completely safe around young children and animals.
Mist distributes fragrance into surrounding spaces, but – more than that, negative ions in the mist neutralise mould spore and some odours, leaving a fresh smelling and feeling room before the Aroma Oil is released.
When using essential oils, we recommend 5 – 8 drops per water chamber.
When using Aroma Oils, we recommend using one drop only.
Diffuse on intervals as required for best results.
The diffusers are gorgeous & so many oils to choose from. The emails containing additional information are a surprising bonus. Delivery is so quick & always beautifully wrapped. I'm so delighted to have discovered this site & Julie.