Creating Relaxing, Healthy Spaces Since 2010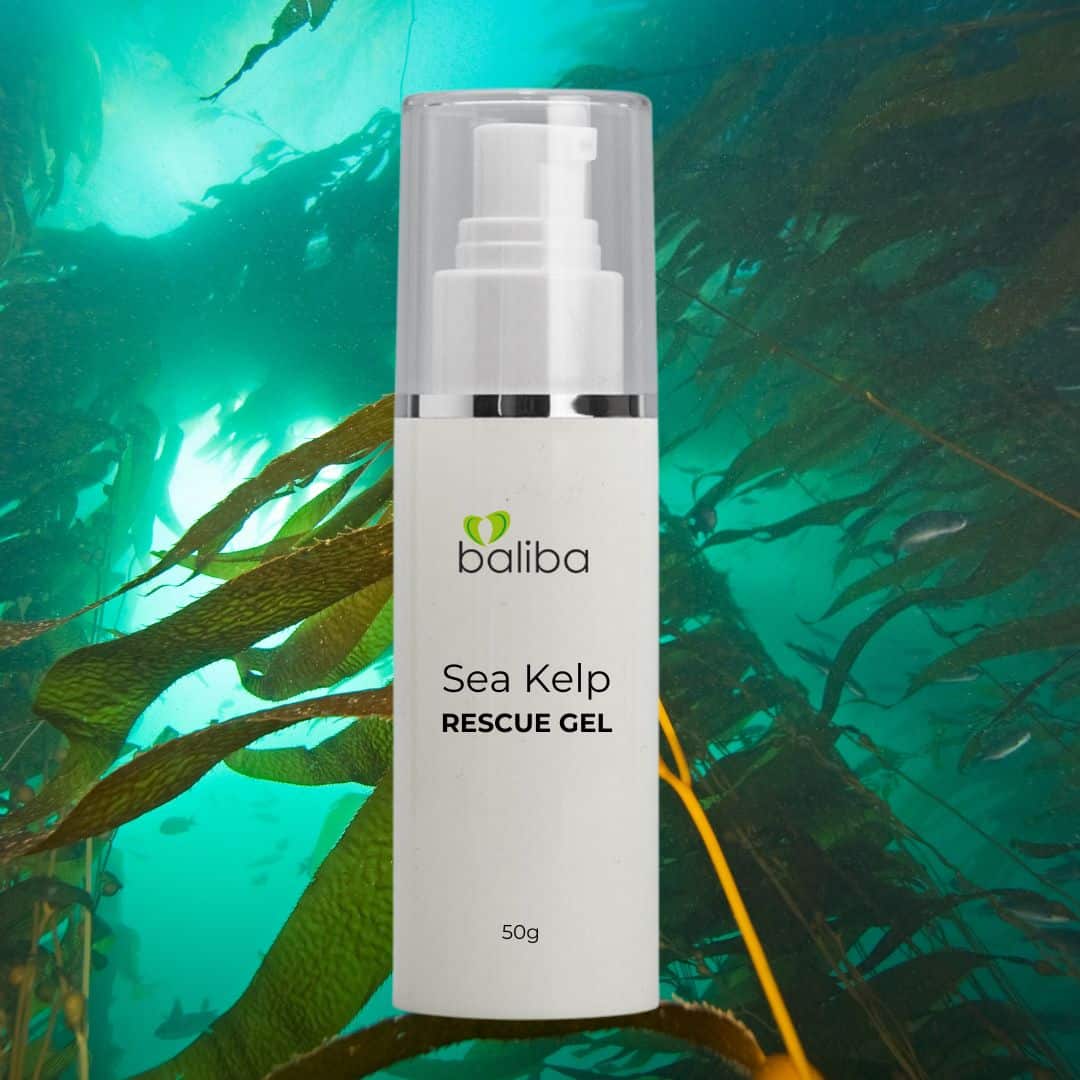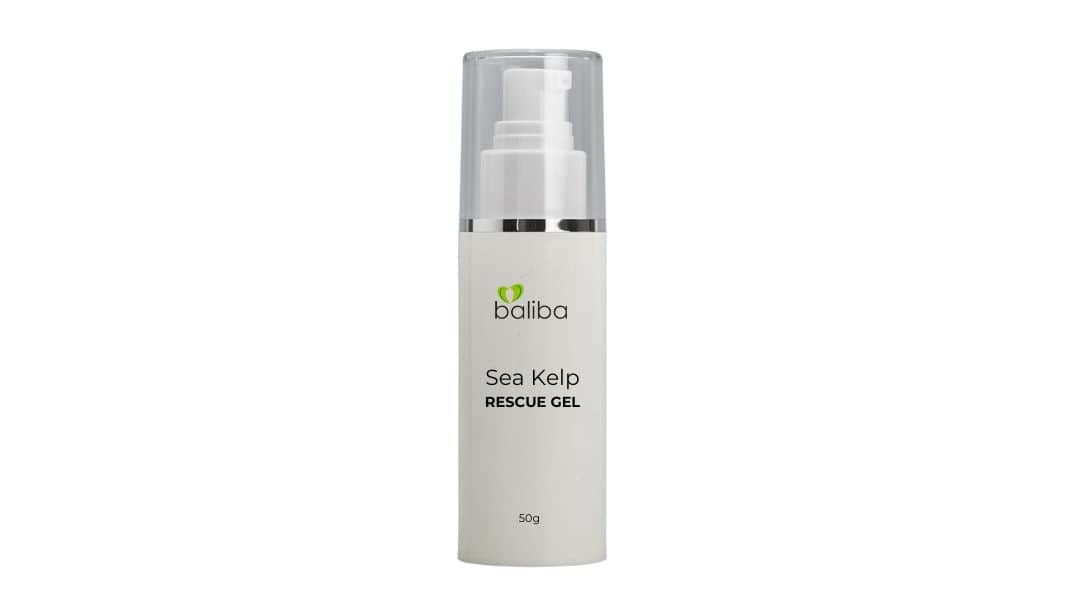 Sea Kelp Is So Amazingly Good For Skin! We've combined all the amazing greatness of fermented bull kelp (read about it below), with agave stem cell extract for even greater hydration, and panthenol (vitamin B5) to create a wonderful Rescue Gel you will not want to be without.
In stock
or 6 weekly interest-free payments from $12.83 with

what's this?
Sea Kelp Rescue Gel 50ml is a fabulous botanical serum with powerful ingredients that will not only deliver vital nutrition to help skin heal, but also help skin regulate hydration, fight inflammation, promote healing, and promote synthesis of healthy collagen – leading to firmer, brighter, softer, healthier looking skin.
Ingredients:
Fermented Bull Kelp (also known as Sea Kelp Bioferment, or Lactobacillus/Nereocystis Luetkeana Ferment Filtrate). The fermentation process that the sea kelp undergoes enables a more bioavailable & relatively more deeply penetrating delivery of the compounds. It behaves like an external probiotic, soothing and enabling the skin to better regulate hydration within the mid-layers, soothe inflammation, and promote the synthesis of healthy collagen – which in turn enables firmer, more youthful-looking skin. Sea Kelp is a rich source of both magnesium and iodine – both of which are essential to human cellular health and absorbable topically. Iodine promotes healing & helps reduce scar tissue. Magnesium regulates cellular repair in the skin, these two together, delivered to the deeper layers deliver a more profound result. Sea kelp also helps the skin regulate hydration.
Blue Agave Stem Cell Extract. Blue Agave grows in Central American desert areas. In skincare, it is used primarily for its healing properties. Blue Agave soothes irritation and inflammation rapidly and boosts skin hydration immediately and significantly. The profile of Blue Agave includes Vitamins B1, B2, Vitamin C, Vitamin D, potassium, and provitamin A – all contributing positively to skin health, protection against environmental damage, and reversal of photoaging. Blue Agave is a powerful ingredient in many regards – you can feel its soothing presence as soon as the cel is applied.
Panthenol (Vitamin B6). Panthenol is a commonly used skincare ingredient where calming and soothing is required.
Use this gel daily in the morning after cleansing. For super dry and inflamed skin, you can apply it twice daily if you wish to. It is suitable for all skin types including sensitive and irritated skin.
Read below how I discovered the different properties of the ingredients and constructed this product (almost by chance!).
✔️ In Stock. Ready To Send.
✔️ Free Courier in NZ $75+.
✔️ 30 Day Returns.
✔️ 12 Month Warranty on Diffusers.
Need Help? Call on 0800 779 776. We are located in Auckland.



Love the range of essential oils and the Magnesium Butter is divine, it has really helped my aching knees and hips

Maria Ureta Soto
2023-09-18
Thank you for your kind messages. Yes, the parcel has arrived perfectly. I love the arome diffuser!!! And the oil is absolutely beautiful, too. I will be very please purchasing more products from you.

BEACH BREEZE - EDT - WOW! WOW! WOW! What an absolutely AMAZING fragrance your Beach Breeze is! It is SO GOOD!! I'm so pleased you turned the Diffuser Oil into a perfume. IT IS MY FAVOURITE SCENT. It reminds me SO MUCH of Penzine Beach in Wales! I just love the smell of walking on a beach in Winter, the rugged coastline and wind in your hair - well I have to tie mine back otherwise I'd look like Cousin It shuffling along. Not ideal, especially if you are walking on the path above the cliffs!! I also have the Beach Breeze Oil in my beautiful Moroccan Diffuser every night before I go to bed, I set it for an hour. It's so relaxing & I've been sleeping really well lately. So I just wanted to say a BIG THANK YOU!!! Now I can have my favourite scent with me ALL the time!! I was in Auckland recently & went to try a few Tom Ford perfume samples. The actual perfumes are Ridiculously Expensive!! The Mark Up must be astronomical! BUT, I didn't like them at all! (Even ignoring the price tag, they are just NOT for me-don't know what it is but even the samples I have here at home, I'm not using as they give me a headache & make me feel quite ill. AND, I did manage to get a whiff of the TOM FORD MINERALE - The perfume Beach Breeze is based on - IT'S ACTUALLY A DISCONTINUED SCENT - And WOW! It was NO WHERE AS GOOD AS YOUR ONE!! Honestly, if you close your eyes & think of a salty coastal breeze blowing in over a rugged coastline, and then compare the TF fragrance against Beach Breeze - Your Beach Breeze is the winner hands down. It TRULY CAPTURES that image in a bottle! Even, the lady in the store agreed that your one was a lot nicer!! I just had it in my handbag, and she asked if she could smell it. She loved it!! But said, don't tell her boss! So anyway I just wanted to let you know that.

Great customer service, very fast communication and amazing product! Julie was amazing to deal with and so helpful!

Rob and Ant Ellis
2023-09-11
Great communication and love the diffuser!

As a new Baliba customer, I have to say I'm really impressed. I have had several follow up emails since ordering, welcoming me and giving the opportunity to learn more about the power of essential oils and aromas on our wellbeing. The aroma oils I ordered with my diffuser are amazing and powerful and truly change the feeling in the room and also in my tired sense of smell. The diffuser itself is gorgeous, I'm planning to get another for my daughter for Xmas. I have bought diffusers and oils before but Baliba somehow makes it a more special experience by offering a better understanding of the background and purpose of using essential oils this way. Highly recommend!

Raewyn Mcdowell
2023-08-31
New to purchasing from Baliba. Customer service is above and beyond with Julie adding helpful information on my purchases. Thrilled with my choices and the prices - better than I expected with a huge range to choose from. Will definitely be a returning customer and thoroughly recommend visiting the site. Thank you Julie

Incredible customer service!! Amazing products (the fragrance oils are amazing) very fast shipping. Highly recommend!

So Happy with my purchase beautiful fragrance
Need Help? Call us: 022 353 9576. We are located in Auckland. No Worries Return or Exchange in 30 Days.
Sea Kelp Rescue Gel 50g
This product was originally called HydraGel, simply because it does an excellent job of hydrating dry skin. I came across fermented bull kelp, read about it and decided to give ita try – initially only using the bull kelp.
It worked well, but I had no idea that it did more than deliver hydration.
I then added agave stem cell extract for more hydration – my skin became thirsty. The addition of agave stem cell extract appeared to quench the skin.
After a few weeks of twice daily use, I noted that I didn't need it as much. My skin appeared to be less dry by itself – so I cut back to once daily use in the morning.
A few weeks later, my skin appeared brighter and firmer. I was not expecting that from a hydration serum – so I did some digging and discovered that the fermentation process and the natural properties of bull kelp combined are much more powerful than I had anticipated. Nutritionally, bull kelp is a  superfood – available as a topically applied product.
This literally is super rich nutrition plus deep hydration – and it's so simple!
I then invited other people to try the gel and they also became addicted. Brighter, more relaxed, firmer skin was achieved across the board – and none of us is 'young' (physiologically at least).
The final addition of Panthenol Vitamin B5 was a finishing touch to ensure all bases are covered for dry, irritated or inflamed skin requiring soothing, healing, nourishment, and firming.
I've now been using this product for around 4 years and I love it. I'm excited to bring it to the Baliba Apothecary in 2023.