Creating Relaxing, Healthy Spaces Since 2010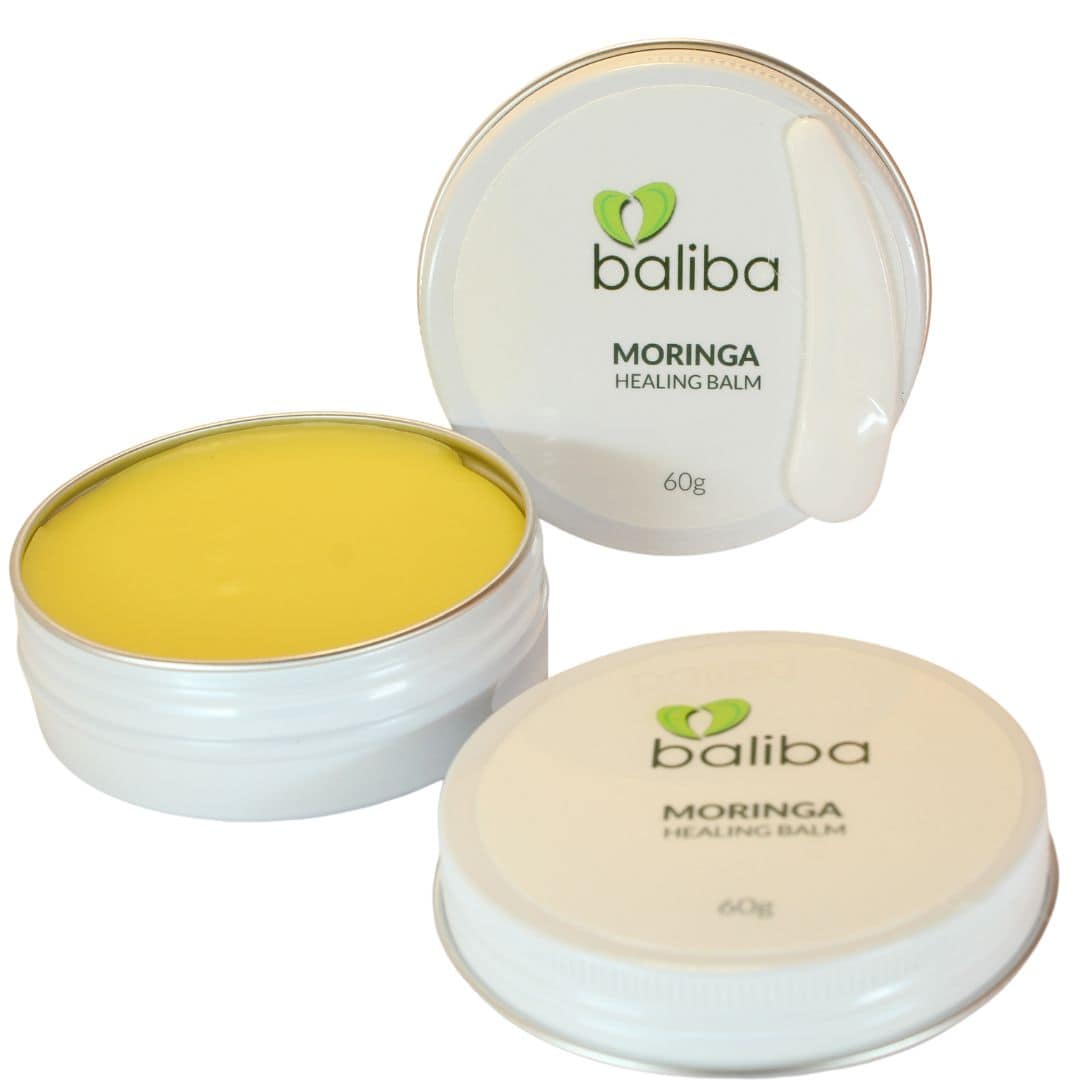 A Fabulous First Aid Kit, Moringa Healing Balm Helps Resolve Inflammation, Itching & Skin Irritation. All Natural Fast Working Ingredients.
Primary ingredient Moringa from the tree known as the Miracle Tree, Moringa Healing Balm is effective on all inflammatory skin conditions including eczema, allergy rashes & shingles. It works quickly and is extremely effective.
or 6 weekly interest-free payments from $7.00 with

what's this?
Moringa Healing Balm
Resolve itchy or inflamed skin conditions without cortisone.
100% natural ingredients, with primary ingredient being Moringa Oil from the Moringa Tree – also known as the Miracle Tree.
Moringa Healing Balm works quickly and is highly effective in helping resolve skin inflammation, including shingles (which I suffer from myself), eczema, minor inflammation from infection, itchy legs & psoriasis.
Moringa is one of the most effective and nutritious ingredients available. Moringa is a natural source of the following:
36 anti inflammatory compounds
46 different antioxidants
More Vitamin A than carrots
More iron than spinach
More Vitamin C than oranges
During testing, Moringa Healing Balm was found to be effective across a broad range of inflammatory conditions, including itchy legs, shingles, an inflamed sore spot mistaken for an infection by a GP.
Itching and irritation eases very quickly. Healing takes place with continued use. In the case of shingles, my own experience was that Moringa Healing Balm stops the irritation almost immediately, and resolves the shingles in two days (rather than in 6 or 7 days with medication).
Moringa Healing Balm is also highly effective as a skin renewal balm used at night, due to its rich content of Vitamin A & Vitamin C, along with anti aging shea butter. While not the primary application of this product, you will find that your facial skin softens and brightens while you sleep. With continued use, skin will also strengthen through the mid layers, which is particularly good for older people with thin skin on hands, arms and legs – making skin less fragile.
✔️ In Stock. Ready To Send.
✔️ Free Courier in NZ $75+.
✔️ 30 Day Returns.
✔️ 12 Month Warranty on Diffusers.
Need Help? Call on 0800 779 776. We are located in Auckland.



Love the range of essential oils and the Magnesium Butter is divine, it has really helped my aching knees and hips

Maria Ureta Soto
2023-09-18
Thank you for your kind messages. Yes, the parcel has arrived perfectly. I love the arome diffuser!!! And the oil is absolutely beautiful, too. I will be very please purchasing more products from you.

BEACH BREEZE - EDT - WOW! WOW! WOW! What an absolutely AMAZING fragrance your Beach Breeze is! It is SO GOOD!! I'm so pleased you turned the Diffuser Oil into a perfume. IT IS MY FAVOURITE SCENT. It reminds me SO MUCH of Penzine Beach in Wales! I just love the smell of walking on a beach in Winter, the rugged coastline and wind in your hair - well I have to tie mine back otherwise I'd look like Cousin It shuffling along. Not ideal, especially if you are walking on the path above the cliffs!! I also have the Beach Breeze Oil in my beautiful Moroccan Diffuser every night before I go to bed, I set it for an hour. It's so relaxing & I've been sleeping really well lately. So I just wanted to say a BIG THANK YOU!!! Now I can have my favourite scent with me ALL the time!! I was in Auckland recently & went to try a few Tom Ford perfume samples. The actual perfumes are Ridiculously Expensive!! The Mark Up must be astronomical! BUT, I didn't like them at all! (Even ignoring the price tag, they are just NOT for me-don't know what it is but even the samples I have here at home, I'm not using as they give me a headache & make me feel quite ill. AND, I did manage to get a whiff of the TOM FORD MINERALE - The perfume Beach Breeze is based on - IT'S ACTUALLY A DISCONTINUED SCENT - And WOW! It was NO WHERE AS GOOD AS YOUR ONE!! Honestly, if you close your eyes & think of a salty coastal breeze blowing in over a rugged coastline, and then compare the TF fragrance against Beach Breeze - Your Beach Breeze is the winner hands down. It TRULY CAPTURES that image in a bottle! Even, the lady in the store agreed that your one was a lot nicer!! I just had it in my handbag, and she asked if she could smell it. She loved it!! But said, don't tell her boss! So anyway I just wanted to let you know that.

Great customer service, very fast communication and amazing product! Julie was amazing to deal with and so helpful!

Rob and Ant Ellis
2023-09-11
Great communication and love the diffuser!

As a new Baliba customer, I have to say I'm really impressed. I have had several follow up emails since ordering, welcoming me and giving the opportunity to learn more about the power of essential oils and aromas on our wellbeing. The aroma oils I ordered with my diffuser are amazing and powerful and truly change the feeling in the room and also in my tired sense of smell. The diffuser itself is gorgeous, I'm planning to get another for my daughter for Xmas. I have bought diffusers and oils before but Baliba somehow makes it a more special experience by offering a better understanding of the background and purpose of using essential oils this way. Highly recommend!

Raewyn Mcdowell
2023-08-31
New to purchasing from Baliba. Customer service is above and beyond with Julie adding helpful information on my purchases. Thrilled with my choices and the prices - better than I expected with a huge range to choose from. Will definitely be a returning customer and thoroughly recommend visiting the site. Thank you Julie

Incredible customer service!! Amazing products (the fragrance oils are amazing) very fast shipping. Highly recommend!

So Happy with my purchase beautiful fragrance
Need Help? Call us: 022 353 9576. We are located in Auckland. No Worries Return or Exchange in 30 Days.