Description
ACCENTUATE THE POSITIVE! ESSENTIAL OILS LIFT YOUR DAY!
Essential Oils have a profound impact on people. Entering the body via the olfactory system (smell), properties from the oils impact the limbic section of the brain, which regulates memories and emotions.
Limbic brain also interacts with and is interconnected with the central nervous system. Many of the essential oils impact not only our emotive state but also our physical state.
Essential oils enter the system within 30 seconds of being smelled and are present through the entire body within 30 minutes. Essential oils – while not a substitute for prescription medicine do have a powerful effect against many common emotional and physiological conditions including melancholy, headaches, anxiety, negativity, grief, insomnia and more.
PulsePoint enables you to use essential oils all day.
The PulsePoint10ml roll on bottle is a custom blend of essential oils pre-blended in safflower oil ready to use. The bottle is no larger than a small lipstick and can fit easily into a pocket or purse. The bottle is glass though, so be careful if you carry it in a pocket!
One application should last around 3 – 4 hours, but reapply as required during the day.
Blended at adult strength. If you require a blend for a child under 12 years, please contact us!
Do not apply to open skin or in an area where direct exposure to UV light will occur (skin irritation can occur).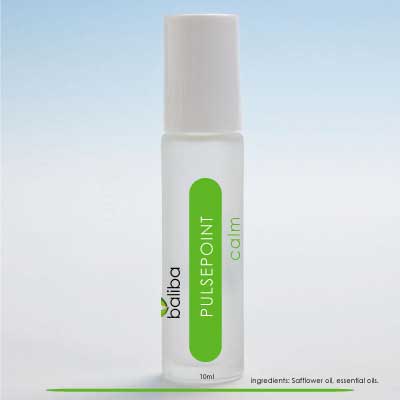 ARE YOU KEEN TO KNOW MORE ABOUT ESSENTIAL OILS?