Description
Ultrasonic diffuser technology – how our diffusers work
Ultrasonic diffusers have a tiny reverberation in the base of the water chamber, which effectively breaks down water molecules and oil molecules – releasing a cool vapour into surrounding spaces.
A small fan in the unit enables an even release of the vapour, and intermittent release settings then enable a continuous release over the day (or night) for up to 16 hours in the case of this unit.
Importantly, the vapour results in increased negative ions – enabling a relaxing experience, much like being near a large body of moving water or being surrounded by nature – both also being excellent sources of negative ions.
Negative ions also reduce mould spore and freshen the air – leaving your home fresher, healthier as well as more relaxing.
Water chambers and plastic components from our diffusers are BPA free plastic.
Create a Profoundly Relaxing Space!
Ultrasonic Diffusers generate negative ions – which have a profoundly positive impact on the surrounding space. Mould spore and airborne bacteria are neutralised. The impact of positive ions from electronics and pollution are balanced and neutralised.
The mind starts to relax & feel free – much like the impact of being near the ocean. Add the impact of essential oils or the fabulous scent of natural based aroma oils & you have a space you will enjoy!
Self deactivates on water running out.
Up to 8 hours work time.
Light set on, off, one colour or rotating colours.
Toddler and animal safe.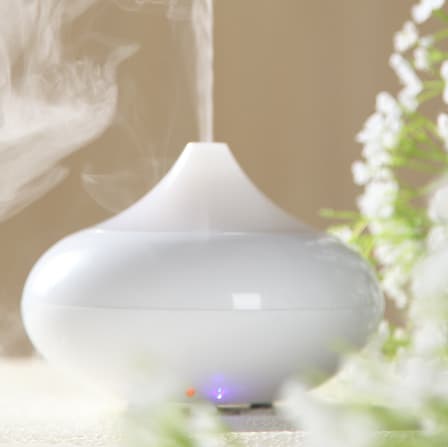 Provides clean air for healthy homes.
Cool vapour essential oil diffuser can also assist with reducing airborne bacteria, and thus can improve household health in general, helping to avoid coughs and colds. These diffusers are excellent in nurseries or around young children or pregnant women, but if using essential oils, please halve the amount of recommended oil drops in this situation.
When using essential oils, we recommend 5 – 8 drops per water chamber. If using aroma oils, please use only one or two drops. Baliba Aroma Oils are premium grade and are very potent. Aroma oils contain a blend of essential and synthetic oils and generally deliver a more true scent than essential oils – which by definition must be only natural essences.
Most of our Diffusers are electricity powered – suitable for New Zealand power sources, although some models are USB powered.
Diffuser units produce no heat at all and are perfectly safe to use around small children and animals.
Light options available for diffusers are a single colour, have the colours changing or have the light completely off.
Diffusers switch themselves off when the water chamber is empty, and run for hours on one small tank.
Essential oil or aroma oil scent delivery is extremely efficient.
Shipping
After you have purchased your diffuser, shipping is usually next business day by overnight courier within New Zealand, up to 3 working days for rural NZ and 3 – 5 days in Australia.
Where we can, we ship on the day the order is made on the site, but any purchase after 5pm will be sent the following day. You will receive a Courier tracking number by email – to track your parcel, enter your tracking number in the Courier Post website trace & trace tool. Courier Post is very efficient, but should your parcel not arrive as expected – just contact us to follow up.
Warranty
Our products are of high quality. Occasionally one fails and if that is the case, we will replace it. In the initial instance, we require a photograph or video of the problem you are experiencing.
Very occasionally, we require the unit to be returned to us and we will meet the cost of that. If you are required to return your unit to us for replacement of a part – we will send you a courier post pre-paid label by email. 
All diffusers have instructions on how to use. The warranty assumes that the unit has been used in accordance with these directions!