Operating Instructions – Liberty Ceramic Diffuser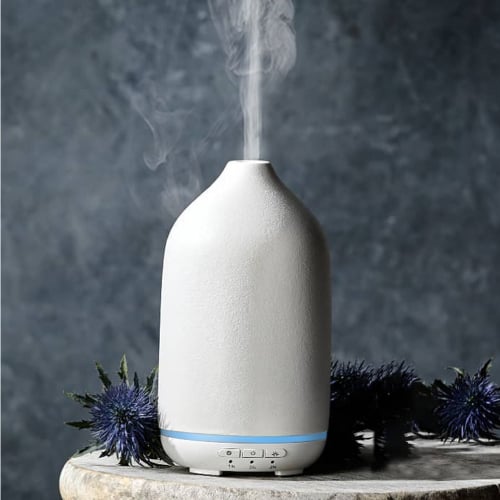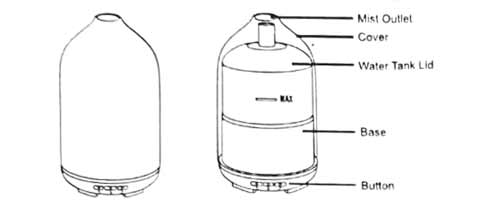 Only use the power cord supplied with the unit.
Always unplug the power cord before cleaning
Essential Oil should not come into contact with the exterior of the unit.
Do not submerge the unit in water to avoid the risk of electric shock.
Do not put fingers, hands or any object into the unit while operating.
Do not attempt to modify or repair the unit.
Do not place the unit near a heat source or direct sunlight.
Use the unit only as intended and described in this manual.

Ultrasonic vibrations transform water and essential oil into a steady stream of aroma-infused mist.
Water Capacity 150ml
High Mist Continuous Operation
Intermittent Operation 30 sec on – 30 sec off 
Low mist Continuous Operation
Mist Shut Off Timer 1,2 or 4 Hours
Light Mode – Colour Light, Warm White Light, OFF.
Automatic Safety Shut-off.
Power: AC Adapter included.
a. Remove top cover: Empty the water from the Water Tank AWAY from the Air Outlet.
b. The ceramic disc should not come into contact with any hard or sharp object.
c. To remove possible buildup, gently use a cotton swab dipped in white vinegar to wipe the inside.
d. Dry with a soft cloth to avoid mineral build up.
e. Do not use strong cleaning agents.
Remove Cover,remove water tank lid from the base.
Pour tap water into the Water Tank up to the Max water level line. Add 4 – 6 drops of essential oil, or 1 drop of Aroma oil directly to the water tank.
Replace the water tank lid. Replace the cover on top of the base, aligning the Mist Outlet with the nozzle of the water tank.
Insert the AC Adapter's DC connector to the DC socket located on the back of the base first. Then plug the AC end into the Adapter into an electrical wall outlet.
Button Functions
Light Button
press 1: colour changing light
press 2: set colour/select colour
press 3: warm white light
press 4: light off.
Power Button:
press 1: High Continuous diffusion (25ml / hr (+/- 5 ml)
press 2: High Intermittent diffusion (30 sec on – 30 sec off)
press 3 Low Continuous  diffusion (15ml/hr (+/-) 3 ml)
press 4: OFF
Timer Button
press 1: 1 Hour
press 2: 2 Hours
press 3: 4 Hours
press 4: turn off the timer function.
Notes: The unit will automatically turn off when the water level becomes low.
Disconnect adaptor from the outlet when not in use. Keep out of reach of children and pets.
Run time will vary depending on humidity levels and other external factor.