Essential Oils impact on how we feel, how we act & what we do.
The Olfactory system is the most powerful in the body – connecting directly with the central nervous system via the limbic system – where emotions and memories are regulated.
Our Essential Oil Detox Range includes:
Lime essential oil aids optimism and empowers positive thinking, It also offers antiseptic, antiviral and anti-inflammatory properties and boosts memory.
Lemon essential oil brings cleansing, refreshing, inspiring cheerful thoughts.
We believe the Lemon and Lime combination is of huge benefit just on its own as a duo, so we have included it as a FREE BONUS IN OUR DETOX PACK FOR JANUARY.
Peppermint Essential Oil is a digestive aid – both figurative and physical – peppermint helps assimilate new concepts, is great for lethargy, nausea, colds and menstrual cramps & is generally energising and refreshing.
Ginger Essential Oil is your go-to for optimism, confidence & vitality, especially if you've sunk quite low. Ginger works on nervous exhaustion and also aids in promoting positive digestion.
Sweet Orange essential oil adds general exuberance, creative mindset & open-mindedness – all of which collapse when we fall into the dark hole of the toxic mindset.
Bergamot Essential Oil is the sixth essential oil indicated for positive mindset and reduction of anxiety – bergamot has a balancing effect on the mind and is used in lots of blends where balance is out of order – in particular, stress management, sleep management and butterflies in the tummy.
Essential Oils help you feel as you would like to…
[without medication or chemical intervention!]
Essential Oils Starter Pack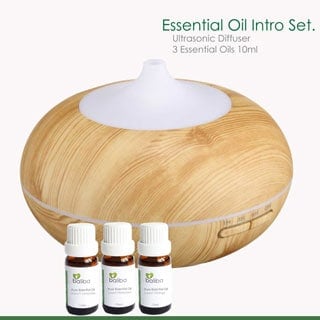 Your choice of essential oil diffuser and three essential oils. $98 + P&H
Essential Oil Essentials Set

Your choice of essential oil diffuser and five essential oils. $130 + P&H
Essential Oils Blends for Detox.